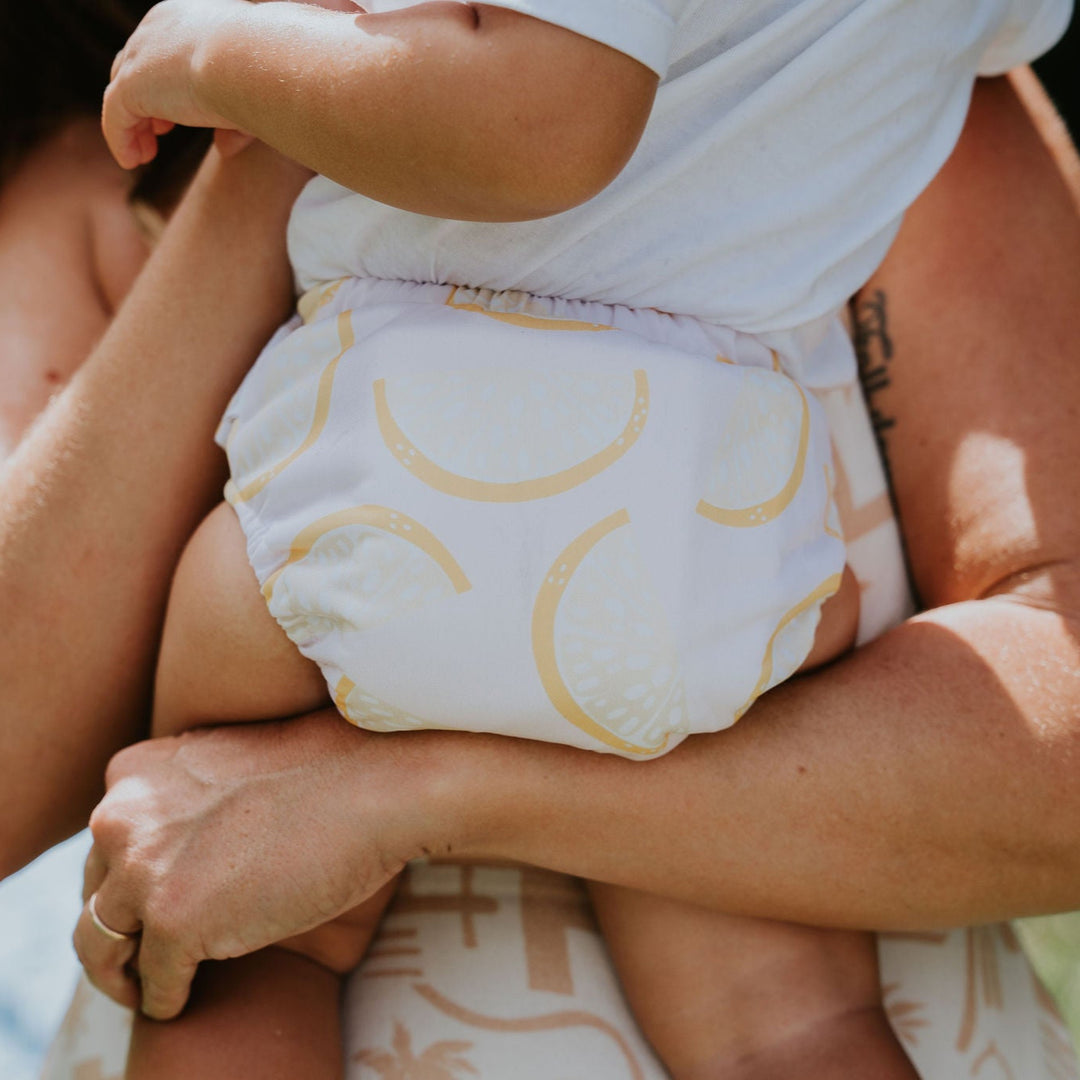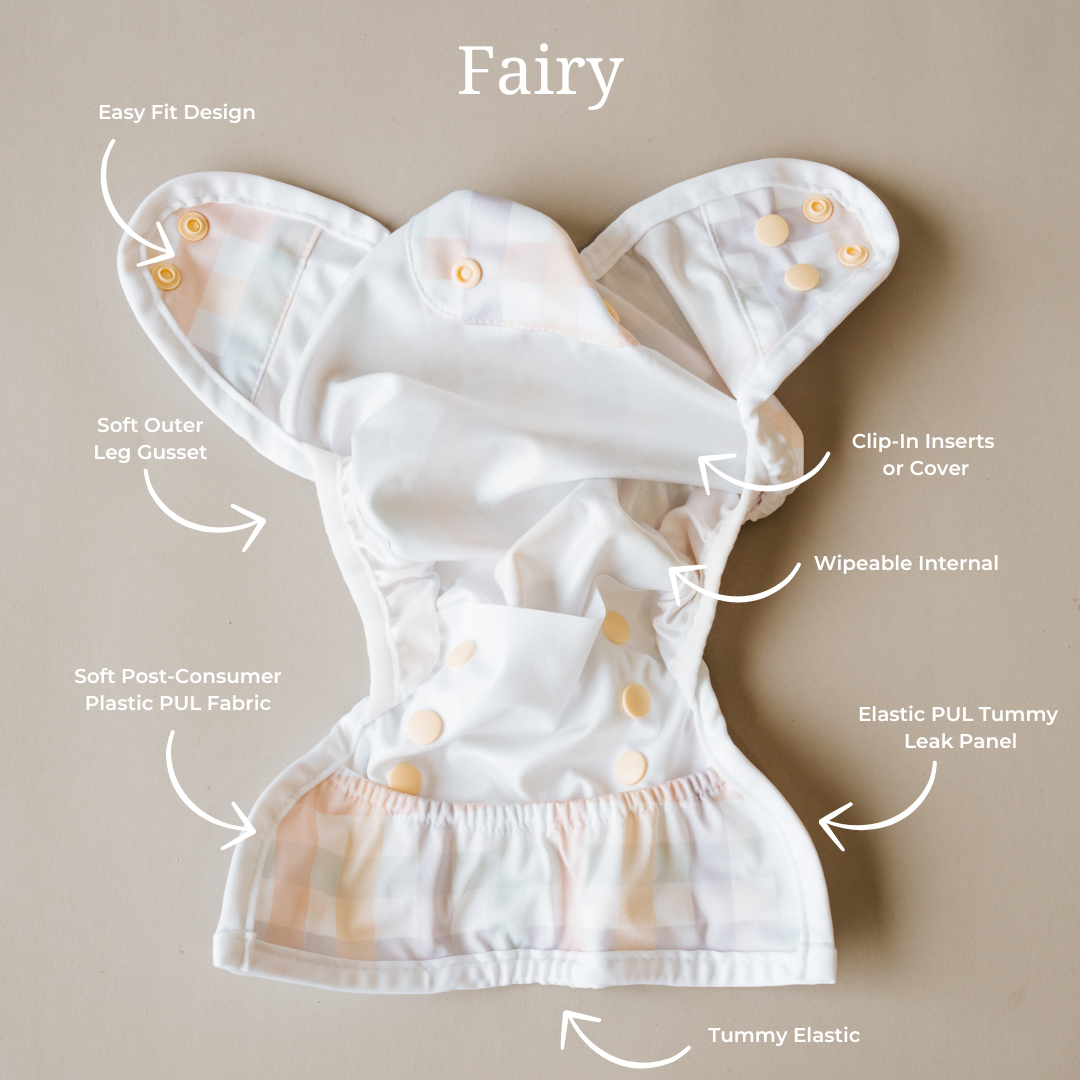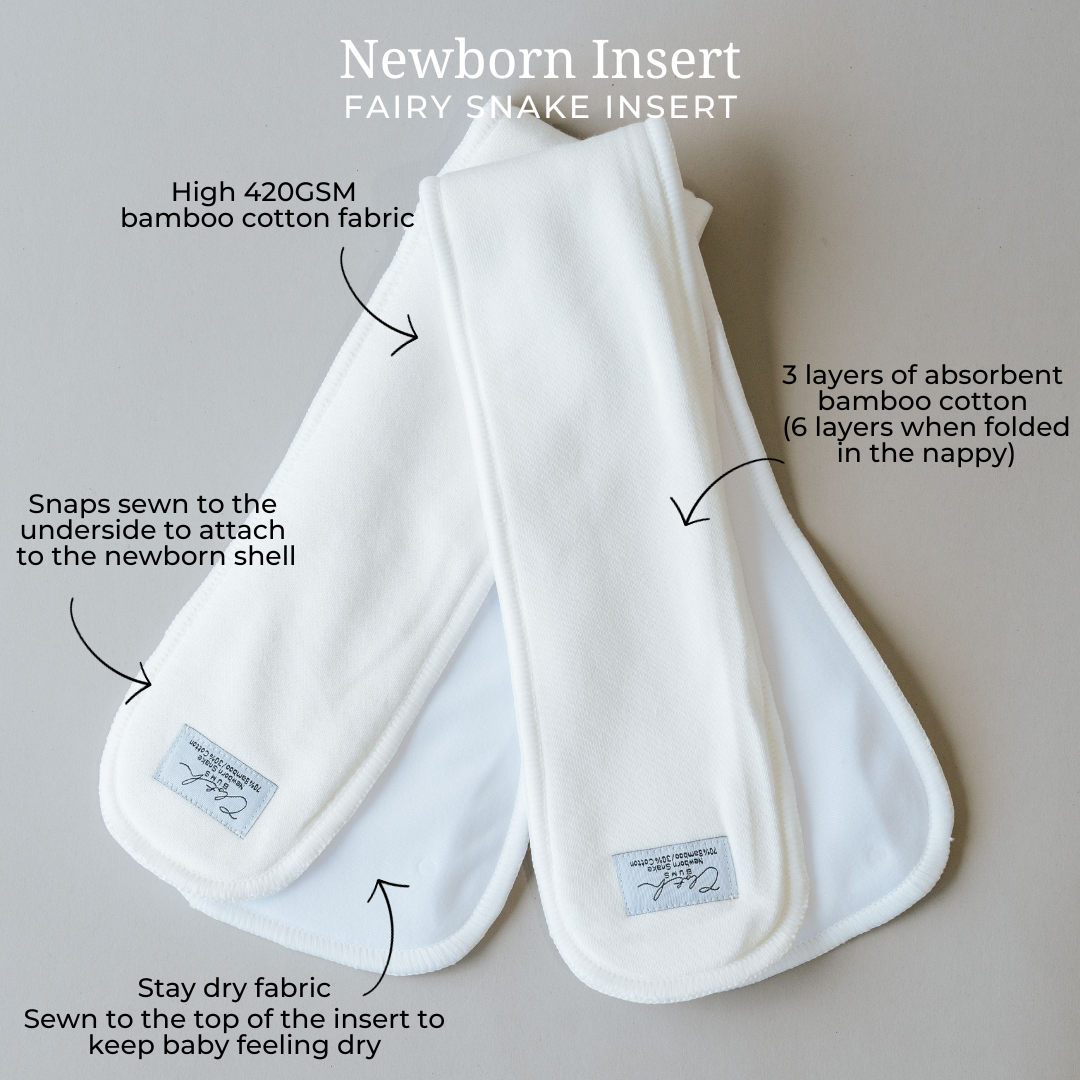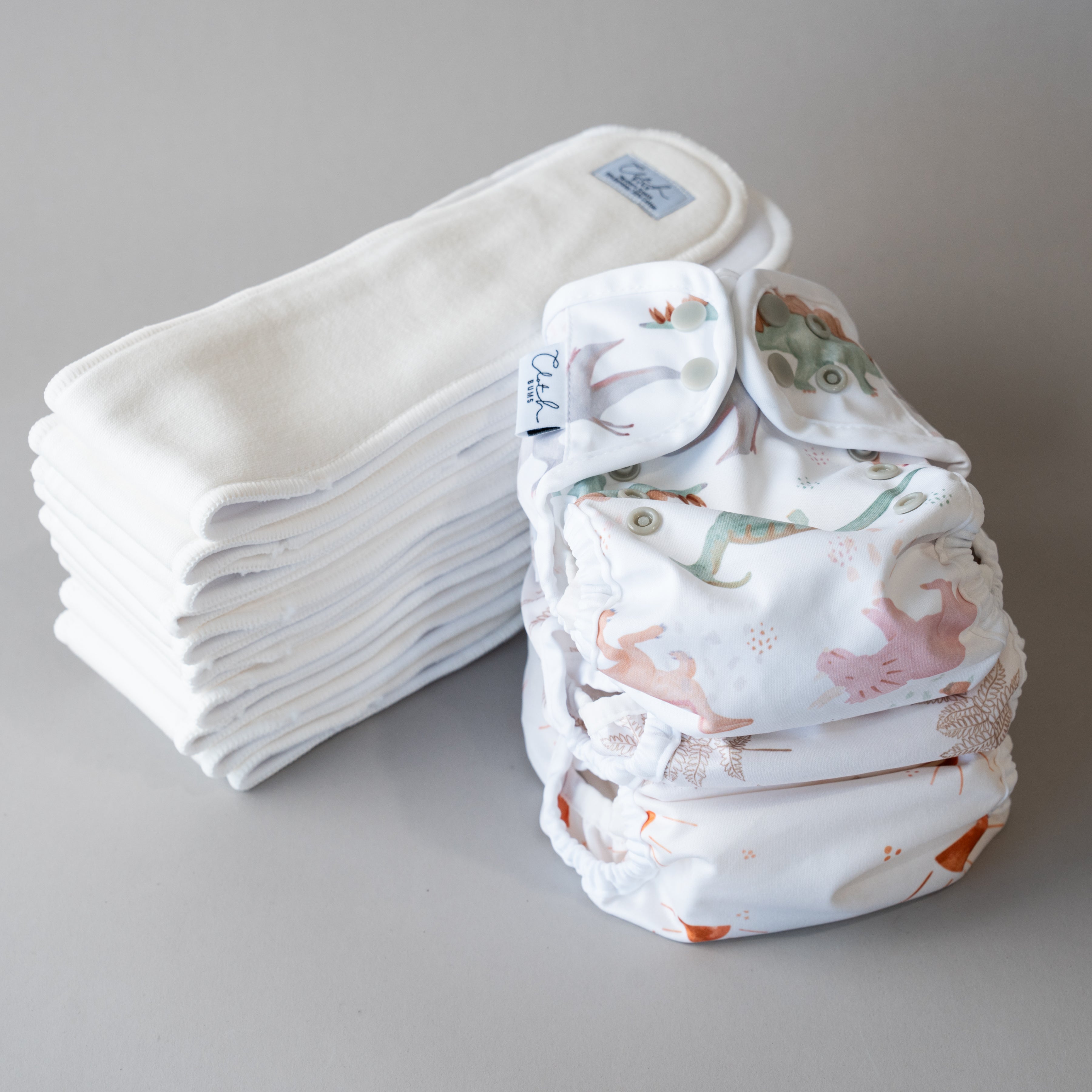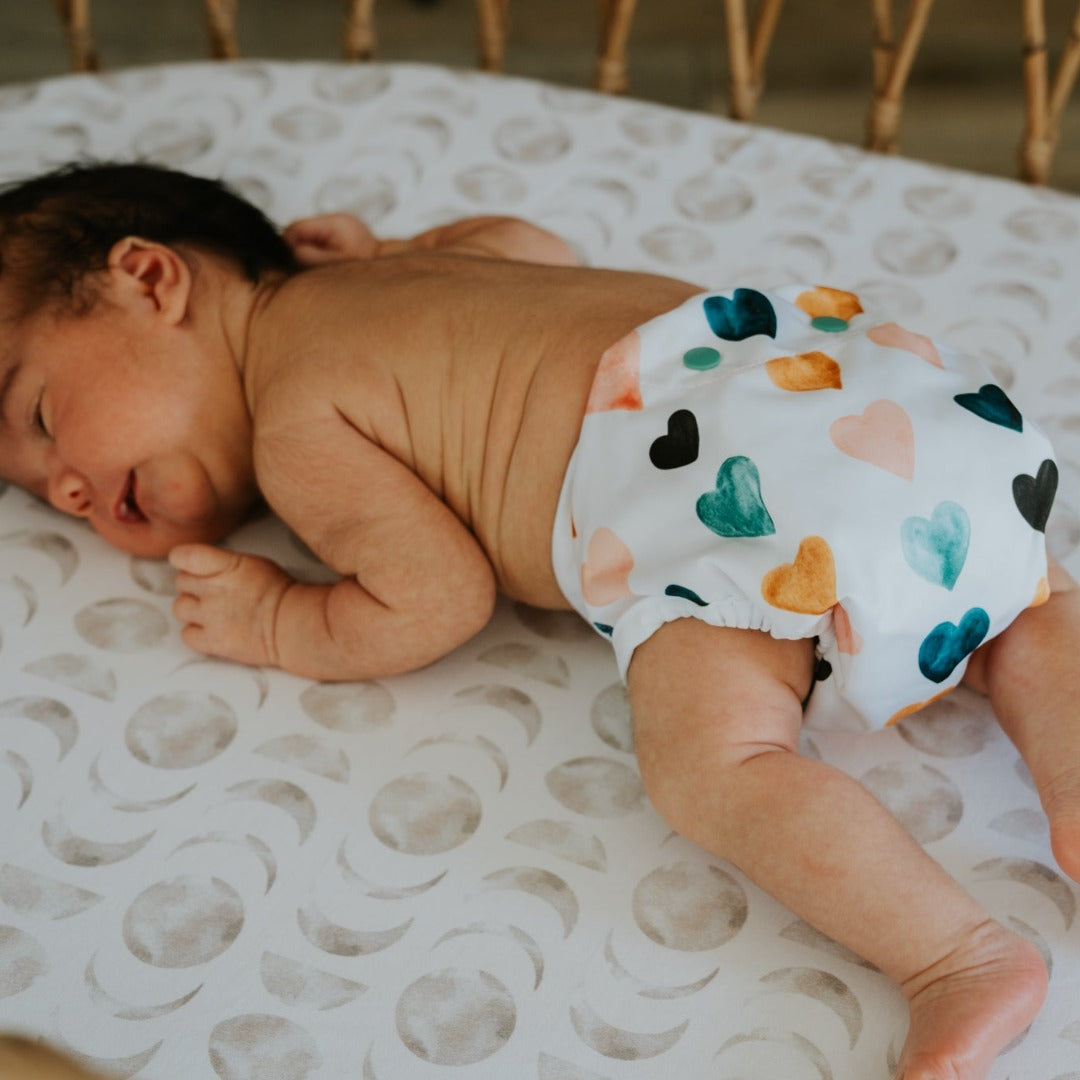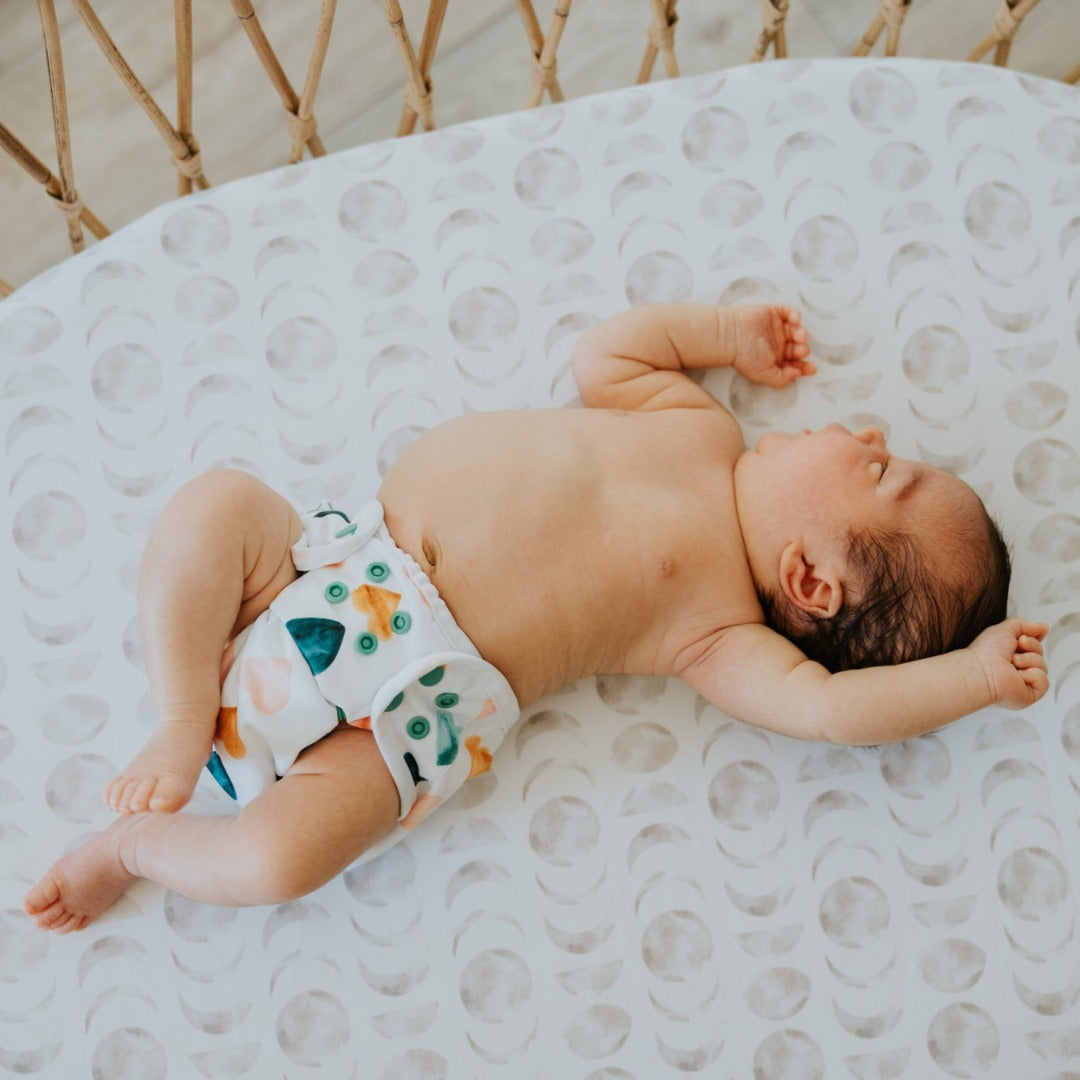 FAIRY Newborn Cover/Nappy - Home
PRE-ORDER - DISPATCHED EARLY JAN
Our favourite Australian fauna, beautifully and softly illustrated in all of their Antipodean glory. 
Meet our FAIRY newborn cover which also doubles as a super convenient newborn nappy. The insert snaps into the back of the nappy under the PUL flap and is easily interchangeable to use over and over with a new insert. 

Material: Polyester outer with TPU waterproof inner. 

Features: 

2.5kg to 10kg.
Soft double-leg external gusset. 
Double waist hip snaps for an easy fit.
Soft tummy elastic to contain any leaks.
Gentle white binding around the outer.
Internal PUL flap with elastic to prevent leaks.
Insert: 
An optional insert is available to purchase with this cover to make it a super easy-to-use newborn nappy. The Fairy snake insert is a 3-layer high GSM bamboo/cotton,  topped with a stay-dry suede cloth that will keep your baby's skin feeling dry.

Super soft materials & elastics - meaning no marks or discomfort for your little one.
Tummy elastic - creates a beautiful fit every time and stops any leaks.
External double gusset - This is a must with cloth nappies and will prevent and blow outs, especially elusive newborn number 2's!
Tummy leak gaurd - Double protection at the front of your nappy shell to stop any moisture leaking out the front.
Convertible shell - Use this shells as a waterproof cover over preflats or flats, or as a complete nappy with the snap in inserts.
Not sure which option to choose? Let us help you break it down:
INSERT OPTIONS
Cover - the shell is a waterproof cover only, use over flats, preflats, or fitted newborn nappies.
Cover & Insert - this is a total newborn nappy solution, the snake insert snaps into the shell and can be folded to suit your baby.
MATERIALS
Outer cover: 
Polyester and heat-bonded TPU laminate.
All our cloth nappy fabrics are OEKO-TEX STANDARD 100 certified and contain no harmful chemicals.
To get the best results from your nappies we recommend follwing these 4 simple wash steps:
Step 1: Dry Pail
Remove solid poo from the nappy, seperate inserts from the shell and place in your dry pail.
(Babies not yet on solids can go straight in your dry pail).

Step 2: Pre-wash cycle
Run a short wash cycle 40-60 degrees with half the normal detergent every 1-2 days. Remove from your washing machine and dry pail awaiting your main wash.

Step 3: Main-wash cycle
Run a longer main-wash cycle 40-60 degrees with detergent every 3-4 days.

Step 4: Hang to dry
Hang nappies to dry or use a clothes dryer on low heat. 
For more information on washing guidelines - CLICK HERE.
Our warehouse hours are Monday to Thursday 8am to 2.30pm.  All orders placed before 12pm AEST will be dispatched the same business day.
All Australian orders will incur a $9.95 flat rate shipping charge on all orders.
At Cloth Bums, our aim is for you to love our products and cherish your purchase. To ensure your confidence, we offer a 12-month warranty starting from the purchase date on all products.
What does the warranty encompass?
Our warranty is designed to address manufacturing defects within the product, encompassing PUL, elastic, snaps, flawed stitching, or defective fabric.
It's important to note that wear and tear due to regular use and improper handling are not considered manufacturing faults and do not fall under warranty coverage.
Read more on our warranty HERE.
Share
So cute
I absolutely love these nappies! I was anxious as a first time mum to try cloth nappies but I can say they're actually much easier than disposable and so much cuter! Love the new prints and that if Bub is just in his happy and a singlet he still looks like the coolest dude in town!
They're also great quality and easy to wash and maintain. Highly highly recommend!!!!
Fantastic covers
Absolutely LOVE these covers. They hold a range of smaller inserts well and keep everything secure while no leaks or explosions! I am waiting for the snap inserts to come back in stock so I can use the complete set. These are my favourite PUL covers I've used on my newborn so far.
Amazing covers
I have tried a few different newborn nappy brands and these covers are my absolute favourite. They fit so well on my little newborn (3.4kg), but could also fit a much larger baby so I am sure I will get many many months of use before I need to go to OSFM nappies.
I use my own muslin flats as inserts, and they fit over them so easily.
Super happy with these and ended up buying more. I would recommend these to everybody wanting to start cloth from newborn.
Brilliant and unique size
I already had newborn PUL covers - but they only fit trifolds. And the OSFM covers I had were way too bulky on tiny legs. These covers are a size I had never seen before - and last beyond the regular newborn size range with enough room to cover flats and not just trifolds or pad fold inserts. Four stars only because I wish they had a third rise snap. Only two sets of snaps I find they pop open as they're not as secure as other nappy snaps.
Great Newborn Nappy
I love the newborn fairy nappies! I've been using them since my baby was 2 weeks old. Fit is great and as long as you ensure the nappy is secured to the right setting, it holds in all poos and wees. Only downfall I have found is my newborn sleeps long stretches at night (4-5hrs) so I can't use this design at night as the snake insert itself doesn't have enough absorbency for this time frame. Will definitely be trialing the night nappy once he is at the right weight range so I can avoid using disposables at night.
We've got your back
vip group
Our dedicated team is by your side to assist you throughout your parenting journey.
Whether you have questions, need assistance with fitting, troubleshooting, or desire exclusive previews of new products and designs, we're here for you.
VIP Group
NAPPY COMPARISON
Compare our range of nappies and find the best solution for your family.
Click Here
Washing Guidelines
View our easy to follow washing routine here to get the best results with your new products.
Click Here
Council Rebates
Did you know that some councils offer a rebate on your purchase? Click here to see if you're on the list.
Click Here