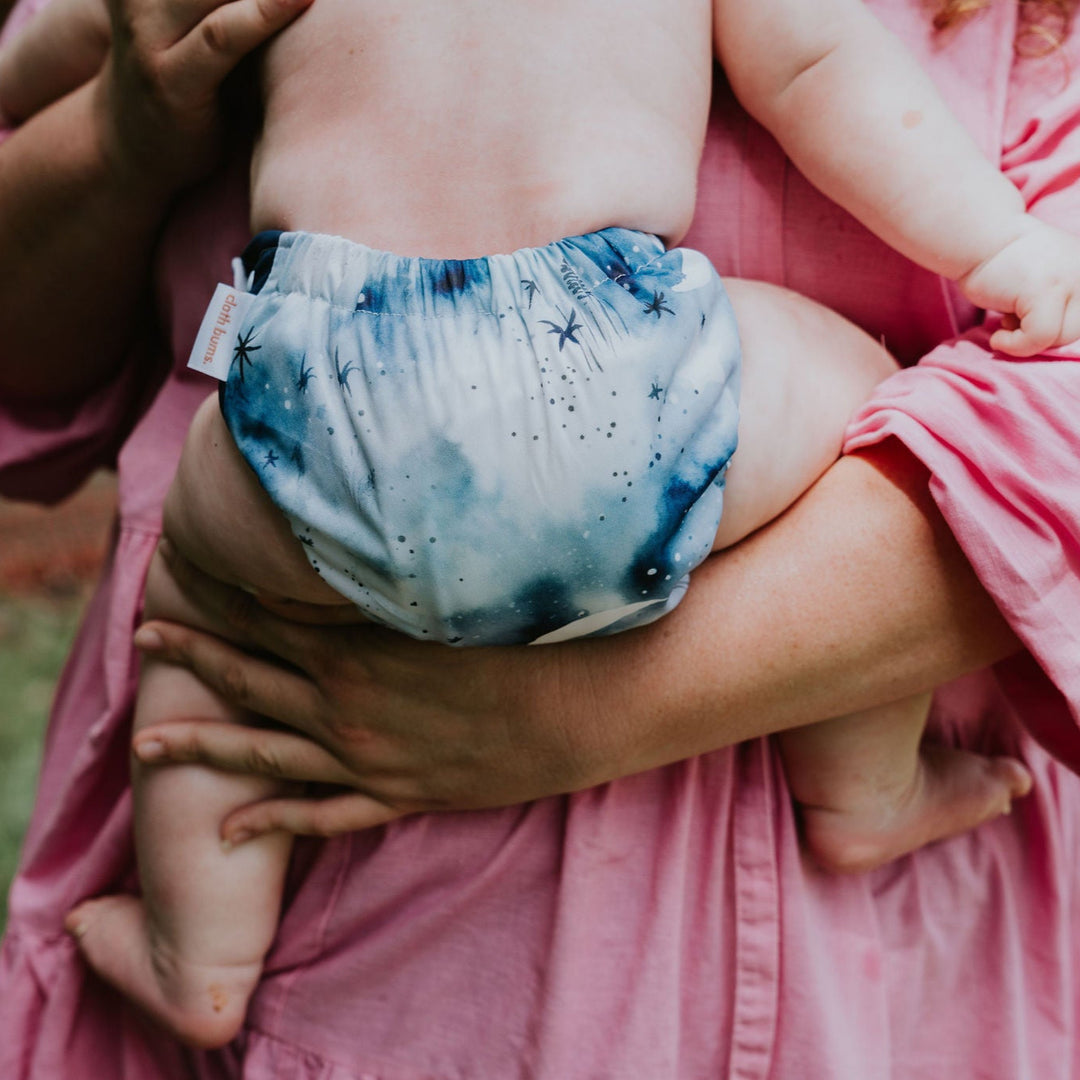 Hydra Swim Nappy - Wild Ones
Wild animals from around the globe come together for a sweet, illustrated adventure. Everyone from beautifully coloured lions and lemurs to zebras, whales and pandas migrate amidst rich foliage across a bright white background.
Size: 3kg to 20kg.

Features: 

4 settings of rise snaps with an adjustable waist.
Soft outer leg elastics, ensuring a good fit and containing any mess. 
Cool athletic wicking jersey lining.
NOTE: Swim nappies (whether they are disposable or reusable) are designed to catch poo only.  Please change your child into their swim nappy just before hopping in the water to avoid any wet car seats or laps.


Washing & Pre-Use Care:

Normal wash with detergent before use - this will remove any manufacturing residue.
Rinse with water after use in the pool. 
Swim nappies can be washed with other cloth nappies or with other laundry at a maximum of 60 degrees. 
At Cloth Bums, our aim is for you to love our products and cherish your purchase. To ensure your confidence, we offer a 12-month warranty starting from the purchase date on all products.
What does the warranty encompass?
Our warranty is designed to address manufacturing defects within the product, encompassing PUL, elastic, snaps, flawed stitching, or defective fabric.
It's important to note that wear and tear due to regular use and improper handling are not considered manufacturing faults and do not fall under warranty coverage.
Read more on our warranty HERE.
Our warehouse hours are Monday to Thursday 8am to 2.30pm.  All orders placed before 12pm AEST will be dispatched the same business day.
All Australian orders will incur a $9.95 flat rate shipping charge on all orders.
All our Cloth Bums items are machine washable up to 60 degrees.
For more information on how to use and wash your cloth nappies click HERE.
Share
Love our swim nappy
The hydra swim nappy fits really well.
I love that our daughter will be able to continue using the same nappy while she keeps growing out of her togs.
It's slim enough to easily fit under full piece togs, but also adorable to be worn with just a swim top.
We've got your back
vip group
Our dedicated team is by your side to assist you throughout your parenting journey.
Whether you have questions, need assistance with fitting, troubleshooting, or desire exclusive previews of new products and designs, we're here for you.
VIP Group
NAPPY COMPARISON
Compare our range of nappies and find the best solution for your family.
Click Here
Washing Guidelines
View our easy to follow washing routine here to get the best results with your new products.
Click Here
Council Rebates
Did you know that some councils offer a rebate on your purchase? Click here to see if you're on the list.
Click Here